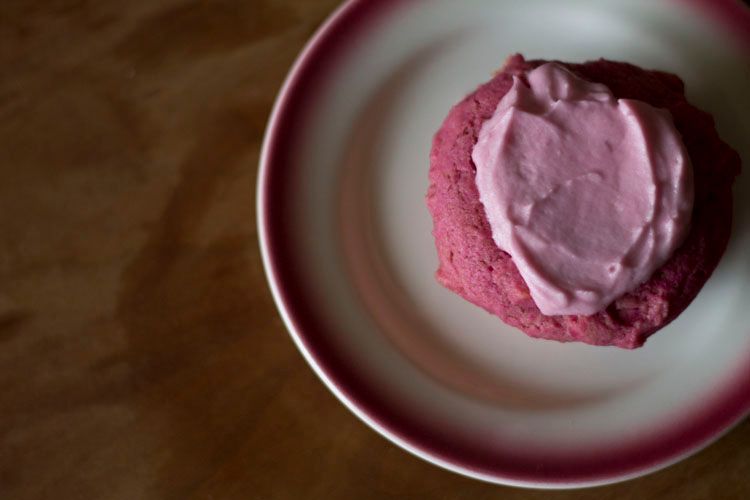 As mentioned before, my brother is vegan, which means he eats no animal products, such as dairy. For Thanksgiving (which I am missing because I'm sick!) I was asked to make a dessert. I searched for a good vegan dessert recipe but most of what I found called for so many substitutions, such as soy cheese, or egg replacer. And while my brother is vegan, I'm the type of person who will take "real" food over anything fake.
So I adapted a recipe to fit his vegan-ness, and my snobbyness: Pink cupcakes of course!
I found
this eggless cake recipe
(which were popular during WWII) and replaced dairy based butter with Earth Balance vegan butter, and replaced the milk/orange juice with beet juice!
I kept seeing beet juice in recipes for red velvet cakes, but never for white cakes. So I experimented, and the cupcakes came out pink as can be, with not a drop of food coloring, and vegan to top it off.
Now, the batter itself will be a vibrant, deep pink, and a some of the color will bake out inside the cupcake, but outside will stay pretty.
And when making the frosting I didn't add a lot of beet juice because I was afraid of the taste coming through, but that wasn't a problem, so next time I'll be adding more for more pink.
If you're making these for someone vegan, ask first about their sugar preference. There's a certain way some sugars are refined that don't make them vegan, so it's best to use the right stuff if they prefer that.
Cupcakes:
8 Tablespoon Vegan butter
1 Cup sugar
1/2 teaspoon vanilla
2 1/2 Cups flour
1/2 Teaspoon salt
5 teaspoon baking powder
1/2 teaspoon cinnamon
3/4 Cup beet juice (one can)
Preheat oven to 375°
Cream room temp butter. Gradually add sugar, whisking. Mix in vanilla.
Combine flour, salt, baking powder and cinnamon.
Add flour mixture, and beet juice alternately into sugar mixture.
Pour into greased cupcake tins, or use liners.
Bake for 30-35 minutes.
Frosting:
Cream 4 tablespoons room temp butter, add confectioners sugar until desired consistency, add beet juice teaspoons at a time, depending on how dark you want it.
Yields 12 cupcakes